When Phil Mehan purchased land near Tulare, it was just a sleepy little San Joaquin Valley farm town. A year later, the 1970 Census would put Tulare's population at just over 16,000, with a growth rate of 17% in the previous ten years. The following year, ground was broken on Tulare's first major shopping center. Up until that time, shopping in Tulare was mostly comprised of local Mom and Pop stores, and a small downtown J.C. Penney's…and this new shopping center would be, "way out by the 99 freeway," as locals were inclined to muse.
Town and Country Village opened for business early in 1972, with an official grand opening in May. For the first time ever, without so much as leaving the city limits, denizens of Tulare could enjoy shopping at major retail outlets such as W.T. Grant, Thrifty Drugs, Alpha Beta, Ernie's Liquor, Sprouse-Reitz, Kinney Shoes, and Radio Shack, as well as Trend O'Fashion, Pandora's Box, and Fabrific Fabric Center.
Progress often brings with it the dregs of society, and within a month of its grand opening, the shopping center suffered its first major robbery. Thieves hit five merchants in the shopping center, but if they were counting on taking advantage of a small town police force, they were soon to be disappointed. The operation was abruptly ended and the perpetrators arrested by professional and very alert officers of the Tulare Police Department who caught them red handed.
As Village tenants prospered, the Mehans were tireless in their quest to bring new enterprise to Tulare, and before the year was over, they added Topps & Trousers clothing store, Straw Hat Pizza, and Colony Kitchen Restaurants. Town and Country Village was forging an impressive footprint in the community, and the community showed their appreciation by flocking to the center to shop and dine.
The City fathers looked at this new growth with a certain amount of trepidation. Prior to the arrival of Town and Country's impressive cluster of local, regional, and national retailers, the only evidence in Tulare, of the commercial trends sweeping the nation, was a walk-up Taco Bell on Tulare Avenue. Even Taco Bell was still a fledgling operation, owned by founder Glenn Bell and a few family members. Glenn had just split his original 40 shares of Taco Bell stock in 1969, in a 30,000 to 1 split. Adding to the city's concerns, now Mr. Mehan wanted to bring a major discount gas station to his center. After months of sparring, city planners finally approved plans for a Sav-Mor Gas Station, complete with their massive trademark flag pole and huge American Flag.
In April of 1974, Charlie Strouse, a minority partner in the shopping center decided to dissolve the partnership on terms that could mean financial ruin for the venture. Strouse sued, but eventually settled for a fraction of his initial demands. Mr. Mehan managed to survive selling half the center to an investor by the name of Karsins, to pay Strouse off, effectively trading in a 25% partner for a 50% partner. Eleven years later Mr. Mehan paid off the investor, Karsins, while simultaneously maintaining the center in pristine condition, and surviving numerous changes in small tenants and major anchors.
Over the years, the center has been home to a wide array of enterprise specializing in everything from wigs to bicycles, a drive up photo-mat, greeting cards, book stores, a candy shop, furniture stores, auto parts, numerous clothing stores and restaurants and much more. When W.T. Grants Department Store went out of business, K-Mart took their place, and in a bold move, Phil rolled up his sleeves and added five more stores along Prosperity Avenue, adjacent to Thrifty Drugs. In December of 1976, Baskin-Robbins 31 Flavors, a Donut shop, and Ernie's Liquor moved into three of the newly constructed stores.
Over the next decade, it was business as usual with many tenants coming and going. Some outgrew the space they rented, while others were bought or sold, or went out of business altogether. A few, like Revelation Dress Shop, just retired and closed their doors after long successful careers as retail merchants. Still others were victims of changing trends in the market place, such as video stores and photo processing centers that have been replaced by more modern products, or market shares that were absorbed by big-box stores.
When Sav-Mor Gas moved out in June of 1986, Mr. Mehan cleared the site and erected an additional eight-store retail complex, bringing the center to its near present day footprint, other than ongoing landscape improvements, outdoor patios and pavilions, and a few remodels and small additions to existing structures.
January of 1987, the center once again narrowly escaped disaster when the infamous John Orr, a Glendale fire investigator turned arsonist, tried to burn the place down. Each evening prior to leaving, Mr. Mehan would drive around the center and through the back alley checking everything out. One evening, he spotted a car in the back that sped off as they approached. On investigation, they discovered several pallets placed in a hallway leading into the rear of Family Bargain Center. The pallets had been doused with gasoline and set afire. They managed to contain the fire until the fire department arrived, and saved the day.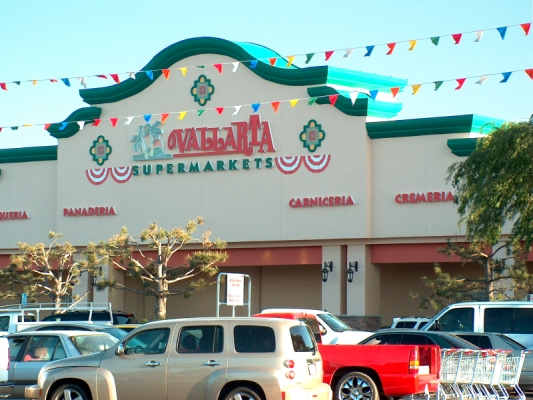 Like the buildings and grounds, the center's name has also been renovated to more modern standards. A few years back, the Mehans dropped "Town & Country," in favor of calling their prized property simply, "The Village." Whatever its name, if you didn't know the history of The Village, you would never believe it's nearly forty years old. The grounds are landscaped and groomed, and the buildings and parking area maintained in condition on par with new shopping centers in the area. This is no accident, and is of great credit to Mr. Mehan, who has reinvested his money and countless hours providing Tulare with an attractive and economically healthy business, professional, and shopping environment. Mr. and Mrs. Mehan have received numerous awards in recognition of their contributions to the community.
The latest major additions to The Village, are Vallarta Supermarkets and Fallas Paredes Department Store. Mr. and Mrs. Mehan, along with Village tenants and the community at large, is welcoming these two great businesses to Tulare with open arms. Vallarta and Fallas are among the most energetic and dynamic retail establishments in California today, bringing low prices and convenience of big box stores, with the service and home town friendliness we miss so much in other large, well stocked stores.
Please feel free to browse our website, and be sure and click on "the village" tab above to see a complete current list of The Village's stores, restaurants, and so much more.